Manifestation Store | Bath Salts | Organic Body Butters | Crystals | Smudge Sticks
Organic Bath Salts and Body Butters, infused with Healing Energy, Essential Oils, and Blessings. Reiki Charged Crystals and Smudge Sticks.
Manifest Serenity Organic Bath Salts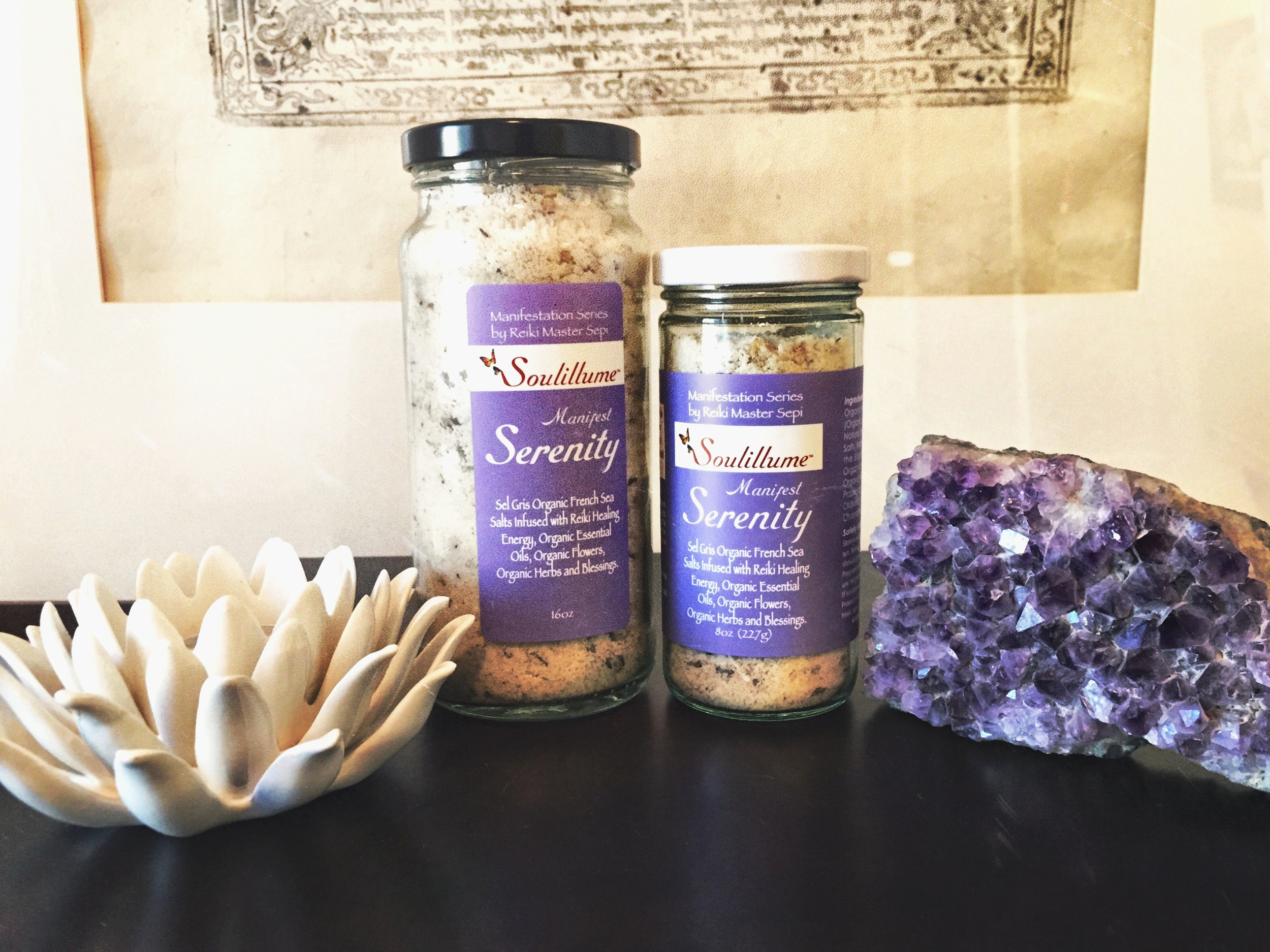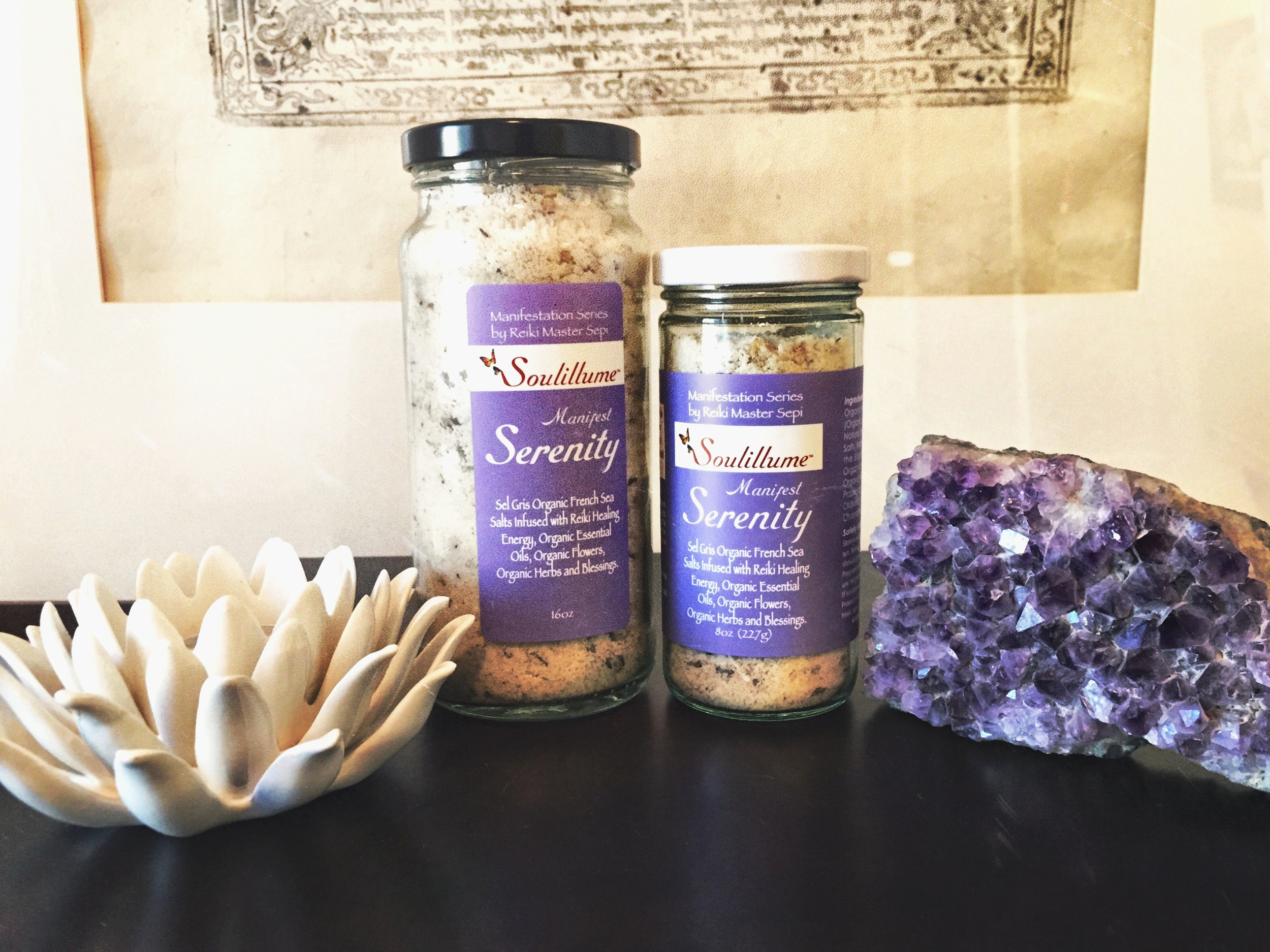 Manifest Serenity Organic Bath Salts
Want peace of mind and spirit? A deeper sense of ease and serenity? The Manifest Serenity Bath Salt Blend will ease you into a deeper sense of wellbeing. This Reiki infused bath salt blend will connect you to a deeper knowing of yourself, and your intuition; anchoring your peace in the only place that is constant… yourself. This powerful blend dissolves blockages in your Throat chakra, 3rd Eye, and Crown Chakra gifting you with knowing, trust, and balanced communication. Let Manifest Serenity envelop you in a soothing bath of peace that brings deep relaxation, alignment, and balance.
Sel Gris French Sea Salts Infused with Reiki Healing Energy, Organic Essential Oils, Organic Flowers, Organic Herbs and Blessings.
For Domestic US Orders: FREE SHIPPING for orders over $40, otherwise a $5 Flat Rate.
International Shipping Available Worldwide. Shipping fees are indicated upon checkout.
Manifest Serenity Ingredients/Healing Properties:
Ingredients: Organic French Grey Sea Salts (Organic certified by France's Nature and Progres), Natural Epsom Salts, Natural Baking Soda that meets the Standards of The Natural Organic Program, Organic Lavender Flowers, Organic Aloe Vera Powder and Proprietary Pure Organic Essential Oil Blend of Lavender and Roman Chamomile.
Healing Properties:
Organic French Grey Sea Salts: Grey Sea Salt is formed as the sea water flows into the Guerande marshes, in France, during high tides. The water is directed into a settling pond, where it is evaporated leaving behind a crystallized salt. It is hand-harvested by salt workers, using skills and methods that are over a thousand years old. The salt obtains its natural grey coloring from the salt crystallizing on clay which also provides the salt with its high mineral content that includes magnesium and many other trace minerals. This grey salt is 100% natural and is imported directly from France. Bathing with Grey Sea Salts helps to re-mineralize the body, maintain balance and promote healthy skin.
Premium Quality Epsom Salt: Ease stress and improves sleep and concentration. Help muscles and nerves function properly. Regulate activity of 325+ enzymes. Help prevent artery hardening and blood clots. Make insulin more effective. Reduce inflammation to relieve pain and muscle cramps. Improve oxygen use. Flush toxins. Helps with absorption of nutrients. Helps prevent or ease migraine headaches.
Natural Baking Soda: Provides skin relief from sun burn, insect bites and neutralizes the ph level of the body.
Organic Lavender Flowers: Relieve stress, anxiety and tension, promoted relaxation and eases tired muscles.
Organic Aloe Vera Powder: Helps soften the skin, keeps skin supple, reduces wrinkles, soothes sunburn and insect bites.
Organic Lavender Essential Oil: Relieves tense muscles, skin infections, eczema, fatigue, palpitations, headaches, insomnia, menstrual cramps, sinusitis and sunburn.
Organic Roman Chamomile Essential Oil: Relieves depression, stress, insomnia, loneliness, intense fear, ptsd, anxiety and irritability.
Directions: Use 1/2 cup to 1 cup of Salts in Warm Water. Pour salts into the reusable Muslin Bag that is provided with each order to protect your drain or pour directly in your tub. Immerse yourself in the bath, breathe deep and focus on the intention of Serenity!
Safety Information: Store in a cool, dry place away from the sun. Shelf life is 12 months. Individuals with diabetes should not use this product, except on advice of physician. Pregnant women should not use this product. For external use only. If irritation occurs, discontinue use. Product is not intended to diagnose, treat, cure or prevent any disease.